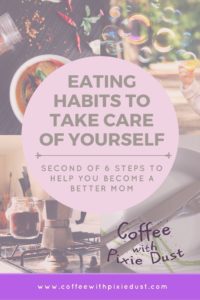 This post contains affiliate links. Please read my Disclaimer for more information.
Step two in learning to recharge…Eating Habits.
This is the hardest, in my personal opinion. I struggle with this all the time, but I also know better. I know that when I feel bad and eat terribly or when we are on vacation and eat out often, I just don't feel as well as I should.
As moms, this is even harder. You know, the old story of picking off your kids plate or eating the cold leftovers. We are all guilty of this. It is hard to be able to do the right thing. Between the kids, school, husbands, cleaning, its a miracle we eat most days. Let alone have hot coffee! It is not unusual for me to sit to dinner and realize I skipped both meals and only kind of snacked here and there and you know what, I'm' grouchy and the whole family gets it.
Its not fair to them, because they shouldn't have to face the angry mommy for nothing
Its not fair to you, because you have to be able to take care of yourself. As important as all of those other responsibilities are SO ARE YOU!
You need to be able to be your best for you and also for them. Your kids, no matter their age, need you. Your husbands need you too and the better cared for you are the better you will feel to be able to do what you need to do.
So how do we do this? 3 steps
1-plan
2-commit
3-Form a habit
COMING UP WITH A PLAN
First you need to come up with a plan, something that is easy and doable. You know yourself and your schedule. Now, ideally, this is the part where we should talk about getting on a diet and getting ourselves healthy and yes! You should do that. But sometimes we need baby steps. We need to start small and work our way up. Jumping ahead, the goal is to for a habit, but more on that later.
You need to be able to take a look at your schedule and then you need to meal plan. I know that you have heard it everywhere. Meal plan, meal plan, meal plan. For so many reasons. Meal planning is a moms best friend. It is a time, money, and life saver. I like to meal plan eve if I change my mind several times that week. It is still nice to have an idea, written down, that I can look at. Its also nice to have bought everything ahead of time so that in the middle of a busy day, I don't have to go run to the store to make dinner, because most days, we would be eating crackers.
Here is a tip. I buy the salad kits. I know that seems simple but on days that the boys have pb&j or chicken nuggets or hot dogs, I open up a bag and there you go. They still get their fun stuff and I don't have to settle for all of those extra calories. And also it helps me to be just a little more healthy. Sometimes making small changes like this are easy and that makes it feel like less work until one day we are ready to do that one thing that is better for us.
There are many ways to do meal planning but I have recently learned a great way to do it using fun organizational tools from Erin Condren. I recently started using them and I am in love! I have gotten so much more organized and she has planners and accessories for everything. Checkout her amazing Life Planner to get you organized. Don't forget to check out all of her amazing Accessories to!
COMMITMENT
Second, you need to commit to yourself to do better for yourself. This exercise is about you and for you. This might mean several different things that we will get to in other posts, but for this instance it means that you will commit to eating well and trying to get as healthy as you are able to right now.
I don't want people to click out because you think that I am going to start talking about a diet. Trust me, I know that I should be on one, but I am not. No, I want this to be about a complete lifestyle change and diets, well, they tend to be more temporary.
What I mean when I say be healthy, I mean, stop snacking right before bed (my biggest guilty pleasure) stop eating the cold chicken nuggets, actually make and eat breakfast lunch and dinner, stop settling for leftovers. I know that cooking especially when juggling everything else around is the last thing that you may want to do during the week at night. But if we are committing to being healthy and eating better, then this is where some of the work begins. You have to come up with a plan to make this easier.
My go to is to come up with a meal plan, go shopping once a week (if possible) to get everything you might need and then just be ready. I think about the things my kids might want and I may play around with the dates but I know the next five meals will be ready when we want. I will admit that sometimes my weeks go terribly off plan, but it helps me to know that I don't have to think too much after a long day. For me, it helps me in that I feel less stressed and less worried. And days like today when I forget we have soccer and we run out and then the road construction means we get home almost and hour later than expected, I know that I don't have to think or run to the store. I just open the freezer and pick whatever is easiest, or whatever will be the smaller battle with the boys at dinner.
This is what I suggest, however, it may not be possible for you and that is OK. You just need to sit and think of a plan that will help you be prepared to have better meal choices available to you.
MAKE IT A HABIT
Third, try to form a new habit. There is a saying that says 21 days to a habit. Change is not always easy. In fact it is downright hard. Especially when you don't have the motivation to do it. So, think of it this way. Try something for 21 days. Write the end day on you calendar or on your fridge and stick to it. Next thing you know it has become a habit. Your body will get used to the change and will actually crave the change. There are a few habits in my life that I have tried to change, and this 21 day challenge has worked for me. I have no scientific evidence, but I have tried it several times and I think it is the best way to easily form a habit in a way that you don't notice. You make the commitment and next thing you know it has become part of your daily life.
I want to challenge you to do these things for yourself. Think about how having a healthier lifestyle, will give you the energy that you need to keep up with your day. Doing these things will help you to be able to both mentally and physically to be able to accomplish your daily goals. It will help you to have the energy daily to face the challenges that you face.
Remember that as a mom you need so much more than what you usually give yourself. You give your all to your family every day which is what makes you a wonderful mom. Just remember that while giving your best you also need to take care of you. Give yourself the love that you deserve.
So please, take care of yourself, make some changes that will help you along the way. Let me know what you try and if you feel that you have been successful. Let me know what you think and any ideas you may have to help other moms.
Follow me on Instagram for the latest on our adventures.
Don't forget to download my free Mom Planning Sheets
Subscribe, and be the first to hear about new updates and my new Youtube Channel.
[mc4wp_form id="337″]