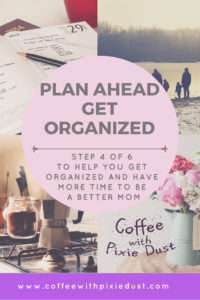 This post contains affiliate links, which means if you click on a link we get paid commission at no cost to you. See my disclaimer for more information.
How is it week 4 already?
Do you sometimes feel like you are thinking about something that seems so far away and then you look down at your planner or calendar and think and what? That thing is now a week or so away. Do you feel like no matter how much planning you do, everything still just kind of ends up like a giant out of control snowball. I do too! Let's talk how to plan ahead how to get organized.
I should probably tell you that I am a crazy,terrible planner. I drive my husband crazy with all my planning. I love to plan. The only problem is that I always plan in my head and then forget to tell him. Or sometimes I plan 4 or 5 different things on the same day without thinking about it. Sometimes my planner is full and other times it is empty but it will be a super busy week.
If I am being honest with you I am terrible at planning! But, I have learned recently that it makes my life so much easier when I do. I am a little bit more organized and I actually am getting my to do list done.
Until last year, I never wrote anything down. But then again I didn't have that much going on, Or so I thought. Turns out once you start to put things on paper, it is amazing that there are enough hours in the day.There is something amazing in being able to know what is going on and even have my meal plan ready. I also keep notes on things that I might need daily.
Why should you plan?
Here are 5 reasons you should have a planner.
1 – It is Convenient
2 – Keeps you organized
3 – Helps you plan your days ahead
4 – Reduces Stress
5 – Make time for yourself
Planning has become more of a hobby now for me. I love being able to write things down and I love that I am able to open up the week or month and get a great idea of what is going on for me and my family. Lots of times I find I have forgotten things so it is nice to have that weekly/daily reminder.
The other thing that I have done is that I found a planner I LOVE. I LOVE, LOVE, LOVE, The Erin Condren Life Planner. Not just her actual planner, but also all the fun stuff that they have to use with your planner.
There are so many ways out there to plan. I know not everyone will be happy with an actual planner. There are apps, phone calendars, so much to choose from. Everyone works different and does better with different tools. My challenge to you is to try 2 or 3 different ones, and settle on your favorite. When you think you have decided try it for at least 6 months and if you hate it change it. That is the beauty of our world today. You have so many options,so find the one that is going to make you happy.
Recently my husband I started using out shared calendar. He is so much better at it than I am. I hate using it, but I love the reminders I get. Its nice, but I will stick to my planner for now.
Before that we tried using an app called Cozi. It was great. We would even have a shopping list and he would know how to help me out if I needed something. It was color coded and you could upgrade the features. If our kids were older and had their own phones with calendars I probably would of continued using it. But, we quickly found out that it wasn't for me.
There have been others that I have tried, but not been to crazy about them. You however could find ones that you love and hate the ones I have mentioned.
My son picked out my first calendar planner, it was fun and awesome. I loved my little planner so much, that I upgraded to my amazing Erin Condren Life Planner. I love it! I love how I can make it my own and the quality is amazing. I highly recommend it to keep yourself all together.
Now what?
Well go get planning. Find your way, plan ahead, get organized, find what works for you, find what you will actually keep doing that makes you happy, and get organized. You will start to see a change in how you are able to plan your days and you will feel less stressed. You may even find a hobby in planning.
The best part is that if you plan your days you will be able to find time in each day for yourself. You will be able to find those 10 minutes to read or 20 minutes for a walk with your dog. You might even find yourself scheduling a date with your hubby for the end of the week.
Remember that the less stressed that you are the happier you will feel and the better your home life will be. Making small changes and planning Ahaed will help you to get so much more accomplished. It will help you feel more organized and more energized.
Don't forget to read Step ONE, How to become and Early Riser and get your day started right.
as well as Step TWO, Eating Habits to take care of yourself.
and Step THREE, Alone Time, How to make yourself a Priority
Please comment below and let me know how you are doing on the steps. What are your accomplishments? What are you working on? What are you most looking forward to?
Follow me on Instagram for all of the latest.
Sign up to be the first to know all of the newest info including my new workbook as well as what is going on with my new youtube channel
[mc4wp_form id="337″]