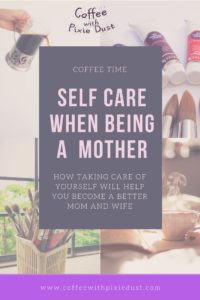 This morning I got to do something new and fun for me. I got to spend some time doing something that made me happy. I got to disconnect from my life for a little while. I got to talk to adults without worrying what else was going on around me or keeping and eye out for a wondering kid. It was self care and it was marvelous.
I am a stay at home mom and I LOVE it! I love being a mother and a wife. I would not change it for anything in the world. I get to spend my days doing what I love. Hanging out with my kids. But, as all moms know, it is tiring. It can be draining. And on the majority of days the last thing that you have is time for yourself. You are constantly catering to the people that mean the most to you in the world and no matter how tired you are at the end of the day you go to be happy because you have invested your day in the lives of those that you love.
My favorite time of day is at night after the boys and my husband have gone to bed. I love walking down the hall and knowing that they are all safe and sound and knowing that we are all together and fine. I feel like a proud mom, but by the time I turn off the last light, and my computer I am completely exhausted and done and hoping that I will sleep well to start it all over again. 
In the world of moms I know that I am not the only one that goes through this cycle, that I am not the only one that does not do things to promote self care. I always put myself last and I know that you probably have similar routines or feelings. There are many moms that stay up way past their family for different reasons, work, housework, school, getting things prepared, or maybe just because you need a little quiet time. It's hard, this mom life. Its hard in a wonderful way that wear on you daily. And it is something that no  mom wants to give up.
So what do you do?
What can you do to feel a little more recharged and ready to face the day. In my opinion sleep. However, I will gladly give it up for a few hours of peace and quiet after everyone has gone to bed, but that is not the best solution. So the only thing left to do is to find something you enjoy doing and do it. Not just say that you will or daydream about it but actually do it.
This art class I mentioned has been something I have been wanting do for some time. I heard the idea from the art teacher that my boys go to. She mentioned wanting to do something for moms and I was quick to jump up and say I wanted to be part of it. And it took some time to put together. Well, finally she announced a date and I committed to going. I asked my husband to help me plan on childcare, because of course it was the one week he wouldn't be home to watch them. I put the date in my calendar and I made it happen.
That is the key, you have to make it happen. There will always be an excuse to not go and and excuse for this and that, but sometimes,as my husband reminds me, it is OK to take some time for yourself. It is OK to be able to do something by yourself that you like. Find an art class, a book club, an exercise class, a girls night out, a coffee date with yourself, the options are endless. You choose!
As a mom, it is very hard to get away from you responsibilities. It is hard to say no to soccer games and family mornings. But you know what, if you don't do it, you won't be you and one day you won't be as happy as you should be. And one day you will look back and realize that it has been 6 years since you had a mimosa with a friend. So let's not do that, lets not be the kind of moms that don't take care of ourselves and turn out to be grumpy because we feel that we have missed out.
Let's remember who we are and remember that we need to do the things that important to us too, because if we are happy and get a little self care, then we have more to give our spouses and those precious little people that need us every day. Let's remember that the better that we are mentally, spiritually, and physically, the better equipped that we will be to be able to take care of them. And in the end that is what we want to be able to take care of them the way that they deserve.
I want you to make a list of three activities that you would like to get back into. Three things that will make you feel like yourself and re energize you to face the things that you need to get done.
Then I want you to commit to doing one of them every month or every other month at the least. Write it in you calendar and make it happen. Do it for yourself and also for you family! You will be glad that you did.
Follow me on Instagram for more fun.
Download a free copy of My Mom Goals worksheet.
Please sign up for my email list so that you can be the first to know of new updates and some fun new projects coming your way!
https://mailchi.mp/acbb3bc574cc/email-sign-up