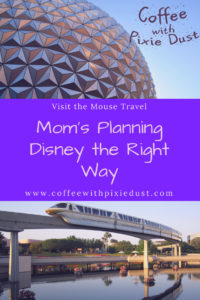 Hi! I'm Alex, a stay at home mom. I have always been a Disney fan.
Since I was 4 and my parents took my brother and me on our first trip. I dreamed of meeting Snow White and my parents took me to see her. I fell in love with all of it. The magic stayed with me as I grew up and now I am a mom. I have taken my children as often as possible. My oldest son went when he was 7 months old, and no he doesn't remember, but I do! My husband does! And now I have the memories of going as a child, as a grown up, as a newlywed, and now with my children.
I am constantly dreaming of our next vacation. I love Disney planning but, because I am a stay at home mom, we don't get to go as often as I want, but we still go. We make it happen. It is still hard and we still have to dream for a while, do lots of planning, before we can go and experience the magic, but we make it happen. If you want to go there is no reason to not go. A little hard work, a little pixie dust, and some tips and you can go too. Let me help you with your Disney planning.
Come along and join the fun! I'll help you learn those tips that I learned along the way. I'll help you plan as I  Disney plan and I will look forward to seeing you there. I can't wait to walk down main street, have a mickey bar , and watch a parade with my husband and little's right next to me. It really is a wonderful vacation for the whole family.
Now that you are planning, read my post on my 7 top tips for travelling with kids, here.
Follow me on Instagram for all of the latest.
Join My Facebook group, Visit the Mouse by Coffee with Pixie Dust for more tips, ideas, and to meet some great moms as they plan their trips.
Sign up to be the first to know all of the newest info including my new workbook as well as what is going on with my new youtube channel