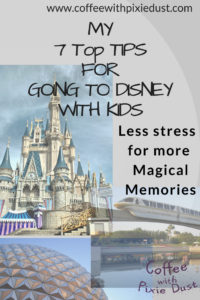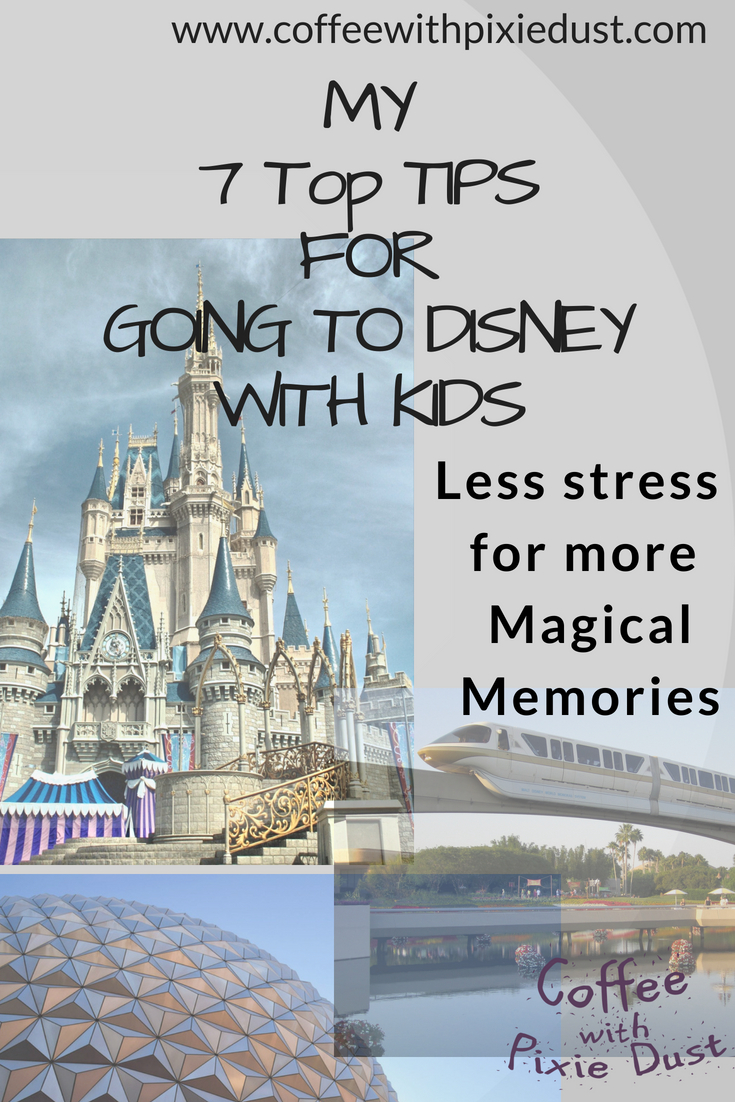 7 Top Tips for going to Disney with kids, making your vacation less stressful and more magical.
You have everything all set and you are super excited to get your trip started. Then you sit and you start wondering if you are really prepared, either because you have never been or because the last time you went was before kids when all you needed was a wallet and lipstick. So, now what? Well, here are my 7 of my top tips for a great day when you have kids.
1- 2 bags
2- Stroller marker
3- Ziplock outfits in your diaper bag in case of emergency
4- Snacks because kids love snacks and hungry parents are no fun
5- Bring water/ Favorite drinks
6- Use an easy to maneuver stroller
7 – Don't over plan your day! Relax at times
Take 2 Bags
I learned this trip the first time I took my son. He was 7 months old at the time and as first time parents we were completely over packed. After packing my diaper bag and a small cooler for formula I thought there is no way we can carry this all day. I suggested that we take a second bag where I could put things that were valuable or a complete necessity while we waited in line. Holding a kid is enough without juggling bags. So, we took a messenger bag and added a small pack of wipes, my wallet, our camera, my phone and one bottle of formula. It was the perfect size and not to happy. Everything else we kept in the big bag in the stroller this was a life saver and a tip I pass around to moms all the time!
Mark Your Stroller
It's no secret that Disney cast members are infamous for moving your stroller for a number of reasons. This has happened to us and it is so frustrating. Especially if it's later in the day, you're tired, and carrying around a 30 lb toddler that fell asleep! Make sure your stroller stands out. Tie a balloon to it, spray paint it in a crazy color, make a giant sign with your last name on it. The crazier the better, plus it might deter a thief from walking away with the one stroller that won't blend. I used to be part of a group and we would out paint chips in the handles one because it helped find the one black stroller in the middle of 29 others and also it was fun if you saw someone else from your group! If you have a stroller that is popular this is so important because losing your stroller in a sea of black feels horrible!
ZipLock Bag Outfits for your Kids
Little kids are a mess! We all know this! Also if you go during the warmer months you will find splash pads and sometimes you just need to go through it! Pack an extra outfit per child and put it in a ziplock bag within the diaper bag. This will keep you organized and then if you have wet or dirty clothes you will have somewhere to put them and not get everything else messy. It's also nice to have everything to go when you have a messy tired kid!
Bring your Favorite Snacks
I think snacks can totally make your trip better. No matter where your trip is. One, they can be small and easy to carry. You can bring them in with you which will save you a ton of money. Let's face it when you feel hungry, you end up in a bad mood and the same goes for kids. Last trip our meal schedule kept conflicting with our fast passes so it was nice to just pull out a snack for whoever needed it. It kept kids happy in the lines or waiting for shows. And we had extra money for popsicles and a few fun souvenirs. I find gummies, cookies, trail mix, beef jerky, tangerines worked great. Everything was small and held up great!
Bring your Favorite Drinks
Here is another one that made my life so easy! Drinks, especially if you have a stroller! You can pack a small insulated bag with as many drink bottles as possible. I even through a few in the diaper bags. My sister in law carded frozen bottles in a bag in her stroller. Whenever we were thirsty we just grabbed a drink! That easy, no waiting in line or looking for stands and paying double the price! The best was that I splurged on a frozen lemonade in a bb8 container. Cutest thing but it cost more than my meal. Every night I would refill it with their frozen drink and pack it up for the next day! The boys had their yummy slushies that they enjoyed Ana's I didn't have to buy extra souvenirs daily!
Use Easy to Maneuver Strollers
If you need a stroller and I recommend them highly make sure it is easy to maneuver, turn, and pack up. Our first trip getting on the tram to get to our car was a nightmare. I had to hold the kids and some shoulder bags while my poor husband juggled the stroller and whatever else I couldn't carry. And let me tell you the teams are made to get people to the park not the giant strollers! If you don't love your stroller, you could always rent one once you are there. There are several striker companies that cater to resort guests.
Relax! Have fun!!!
You have dreamt of taking your kids in this trip and you want it to be perfect. But if you over plan and spend your day running from attraction to attraction and to shows you could miss out on those small moments! The kids found an amazing band playing in Animal Kingdom and stated dancing. My nephew and I shared a Dole whip at 10 at night, because we could. Then we danced in Epcot while he wore my Minnie ears and laughed. That is what I want to remember.
Yes, the rides are awesome, but seeing my son give my brother the thumbs up on Flights of Pandora ride, that was something I'm glad I saw. After all, isn't the point of your trip so that you can remember and create those moments with your family. Enjoy every minute of your trip. There will be stressful moments and problems that come up. But your attitude is what will change all of it.
If you are just now starting your planning for your next trip then I have some more tips for you. Read my post on Disney Planning here.
Follow me on Instagram for all of the latest.
Join My Facebook group, Visit the Mouse by Coffee with Pixie Dust for more tips, ideas, and to meet some great moms as they plan their trips.
Sign up to be the first to know all of the newest info including my new workbook as well as what is going on with my new youtube channel
[mc4wp_form id="337″]