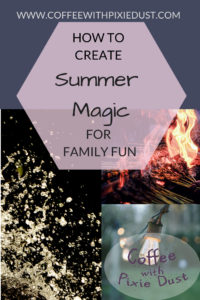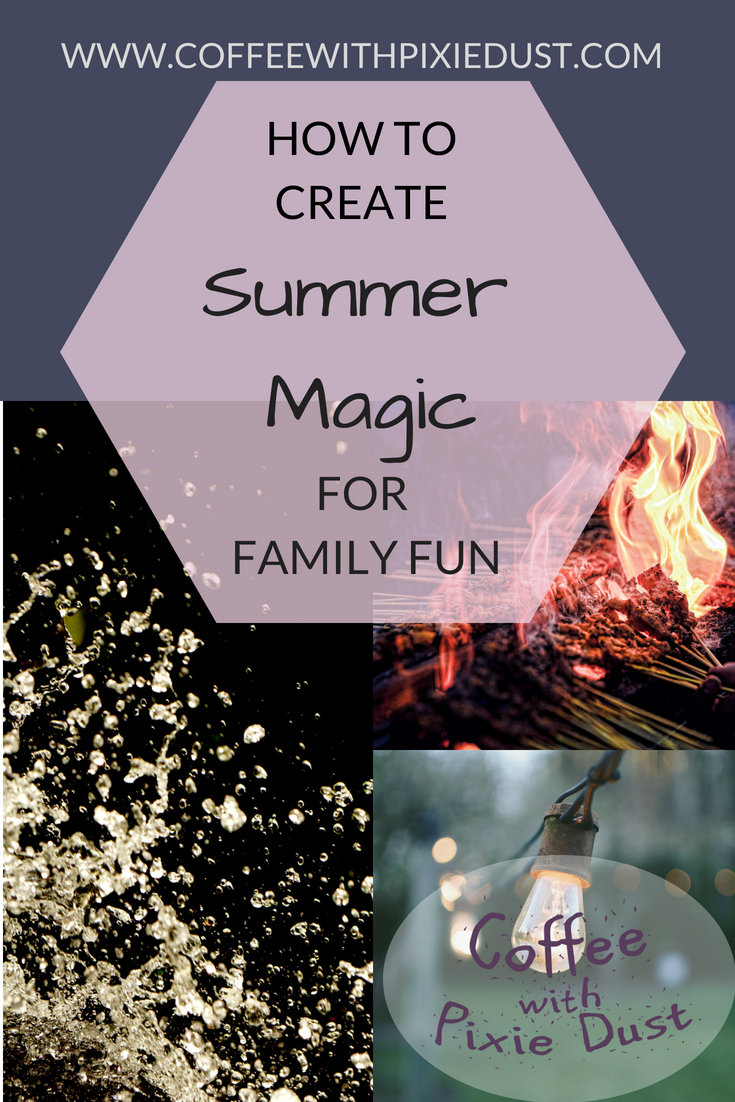 Create Summer Magic for Family Fun
Summer Evenings can be so magical. I remember being little and having so much fun with my brother out in the backyard watching the lightning bugs and our dad cutting the grass. We would play for what seemed forever. We would hide in the trees and pretend it was a forest. My, being a kid with my brother was amazing and my parents added the magic.
Fast forward 35 years and now I am trying to add the magic.
What now?
Last night I was so happy! We had dinner, the boys and my husband played ball, the dogs were running around like crazy, and then we tried to catch lightning bugs. I felt so much joy. The kids were playing, the dogs were crazy, and my husband and I were just enjoying the evening. It was pure family perfection. My kids are my everything and when they are that happy I feel that I have had a good day. Sometimes it feels like we will not get that relaxed feeling with everything that is going on in our day to day lives. Work, School, responsibilities. I miss that feeling of magic that I had felt when I was little oh so long ago. For those days that we feel like everything is wrong we need to celebrate our small victories and our minutes of joy.
Read my article on celebrating your victories here.
But here is the beauty of life. It keeps going. A never ending circle. Yes, things change but that magic that was once in you is now in your kids. That magic that you felt that your parents created, is now in them.
But not all kids were able to have that, you may be one of them. This is where you get to jump in on the circle. Start and create the magic and then keep going and one day your kids will be creating the magic for their kids.
Summer can be amazing. It's hot and you're outdoors a lot!. Swimming in the lakes or at grandmas house. Hiking and camping. And family night. Picnics or just messy popsicles outside. That is life. That was our life and lets make sure that the family fun that we had can live on with our kids.
How can you create the magic?
Every family has different likes. All kids like different things. Family fun can come in many different ways. Here are some ideas that I think that you will love.
Grill and eat outside.
This doesn't have to be fancy. If you have a table outside clean it off and use it, or pull out a foldable. Before we got our outdoor furniture the boys would sit on a blanket outside
2. Garden.
You can even do this in a small house. Just one or two fun things the kids can pick to add to their evening meals will bring tons of excitement and giggles
3. Have a evening activity for the kids.
We play Frisbee, or soccer, or sprinklers. Again keep it simple, kids don't want a ton of things, they want attention and family time.
4. Work together to clean up.
This helps you the parent and teaches kids that families work together so that the fun stuff can happen
5. Create a fun night time routine.
Books, music, a game. Anything goes for this one. You know your kids so think of something that will motivate them to get in that bed.
6. Get Pizza and watch a movie outdoor.
You can google or search pinterest for tons of ideas on re-creating projectors with your phones or other simple methods to do this! It is on my bucket list this summer. Also my brother grills pizza and I will get him to give me that recipe and I will post it at the end.
The Magical Result
These are Six simple activities that you can do to recreate the magic you had or to create new magic. There are so many more! Remember just sitting in the yard with a frisbee will make your night super fun, so go out and do it! Have fun and enjoy your summer.
Please, leave a comment telling me what your family does in the summer. Tell me what you used to do that you wish that you could do now.
For more ideas on what we do, and what you can do this summer follow us on Instagram
Sign up to be the first to know all of the newest info including my new workbook as well as what is going on with my new youtube channel
[mc4wp_form id="337″]
Grilled Pizza Recipe
What you need:
Pizza dough – store bought or make your own
Tomatoes – cherry works great, but whatever your favorite will work
Fresh Basil
2-3 garlic cloves minced
Extra Virgin Olive Oil
Fresh Mozzarella, Sliced
Salt, Pepper
Red Pepper Flakes (optional)
What do I do:
Pre-heat your grill to medium/high
2. Make the sauce: In a large bowl, crush tomatoes, add basil, garlic, and chopped basil and lots of extra virgin olive oil. Mix and set aside
3. Work and stretch out the dough into a rectangle
Put it directly on the grill, close the top
Cook for 4-5 minutes
Flip the dough to cook the other side
4. While the second side cooks, spoon sauce on, add mozzarella slices on top, sprinkle with fresh basil, add pepper flakes if you would like.
5. Close top and cook 4-5 minutes more or until the crust gets crispy and the cheese starts to melt.
Slice it up and enjoy it!