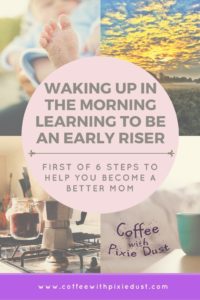 Hey Guys!
So a couple of posts back I mentioned that I had a list of 6 things to help you take better care of yourselves, starting with waking up in the morning, learning to be an early riser. I wanted to get back to the list and do a series of posts that are more detailed so we can discuss how these steps help us.
I want to let you know what will help you and how I do it. Find your own way that best fits into your schedule. The more that this is tailored to you and your schedule the better that it will feel for you.
Here is a quick list to review all of the steps.
1-Waking up on time
2-Eating Habits
3-Finding time for yourself
4-Planning ahead
5-Hobbies
6-Bed times
This time I want to talk about the first tip:
Waking up in the morning!
This is by far the hardest thing for me to do. I hate getting up and I am not an early riser. Not even a little bit. I am a complete night owl and I love my sleep. But alas, I am a mom who has no choice but to get up and make breakfast, get school started, get my kids going. Although homeschooling does give me lots of flexibility, I can not sleep in all morning I like I once did. Those good old Saturday morning where it was just me and my dog cuddling in bed.
Nope, not anymore!
It may also help to find some motivation. Something other than taking care of your family that gives you something to look forward to. A hobby, a side job, a club to join. Lots of stay at home moms want to have their own little something to call their own. Stay at home moms give their all to their family, but it is also important to have something that is yours that gives you motivation and something to look forward to.
Starting this blog has also helped me to get my schedule more on track. It has given me some motivation to get my days started earlier so that after school when the boys are playing I have time to focus and get some stuff done.
So, what do I do?
What does a non-morning person do to help start a healthier habit, how do you become an early riser?
1- I set an alarm. Same time every day. I have read consistently that to become an early riser who enjoys waking up in the morning, this is super important to getting yourself adjusted to a new schedule. I picked a time that didn't make me sad, and set an alarm. And it goes off 7 days a week. Now, there are many days I do turn it off. But I try to make myself stay awake. I lay in bed and think and either reach for the phone and check messages, or on the better days, my son has gotten in bed with me and we talk.
I also have my husband call me. Sometimes he has time to chat and other days he doesn't but it is nice to start the day talking to him for a little bit. It also motivates me to wake up before he calls. Poor man is off at work, so I try to at least be away for when he calls.
2-Shower. Now, I understand that I am very luck that I can do this. Not every mom can have the time to do this, but if you can, then please do it! My kids are a little older and they are home-schooled so we don't have to be anywhere most days. They relax and can play on their own. Or this will be our TV time. They watch and that gives me plenty of time to shower, get dressed, get breakfast going. Then we dive into our day.
This is a step I used to not follow and has made the biggest difference in my day. I feel refreshed and ready to start the day. I even have been wearing my makeup now because the shower helps me to feel better. If you can squeeze it in, or even if it is only a really good face wash, do something that will help you feel revived. It really sets the mood for the day
3- Breakfast. The boys need to eat and I might as well start the day off right. There are still some days that I don't quite follow this part, but I do try to sit with them. We like listening to the podcast Kids Bible Stories as well and that will definitely start us off right. We discuss the story, sometimes read books, and then plan out our day.
And lastly, My COFFEE.
Even if I drink it cold, I know that it is sitting there in the cup ready and waiting for me
This is what is working for me now. I want to encourage you to come up with a morning schedule that helps to give you a boost. Every mom has a different schedule. We have school, jobs, family, errands, so much on our plates. Everything that everyone in our family requires, but again I go back. If you take care of yourself you are going to be so much happier when your kids are up and asking for breakfast, when your husband needs something, when the pets are acting crazy. You'll be able to look at your planner and feel that you are able to accomplish all that you have to do.
Refresh and Energize yourself.
Get your day started the right way, find some quiet time for yourself, even if it is only for five minutes. It will make all of the difference in the world. You will be much happier as your face you day.
Follow me on Instagram for all of the latest!
Don't forget to download your Free Mom Planner Sheets to help you get organized for the week.
And don't forget to sign up for my EMAIL LIST and be the first to know about all of my upcoming news!
[mc4wp_form id="337″]