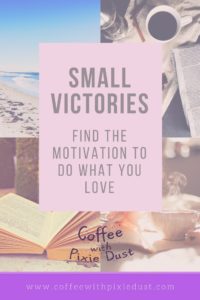 Hey guys!
Today has been a great day. Not because anything great happened. Simply because I feel that I have accomplished some small victories. This post is more of a follow up to yesterday.
Yesterday I felt pretty down on myself, I felt like all of the hard work that I have put into this new baby blog was for nothing. So I had some fun wine, gave it another go, stayed up way too late, and then got up today and tried something different. And friends let me tell you that today was the day that I got the most instagram followers, and the most page views to my blog that I have so far. I don't want to give the impression that my followers are out of control but today was enough to encourage me to keep going and remember that the work will pay off in time!
Here is a little back story about Coffee with Pixie Dust. I have been wanting to blog for quite some time now. In fact, this is my second attempt at it. The first one was kind of a failure in a sense, however, I learned that it was something I wanted to pursue and I met some moms out of it. I had to take a step back from it and relearn the right way to blog.
The result, Coffee with Pixie Dust!
Yay, I love it, everything about it. How I can interact with others, give advice to those who would like it, help others, meet some cool people, and mostly just have something to focus on. Since starting this blog I have been happier, more motivated, and just excited about things in general.
Which is why I am making it my goal to motivate more moms to do the things that they have a passion for. Starting with this post, it is my hope that everything I write will remind you how wonderful you are as a person and a woman and I hope that you will be motivated to do the things that you love that are apart from your kids and family. I want you to find you hobbies, your likes, your passions and follow them until you are able to create your small victories!
As most mom bloggers know it is not easy, but I love that it gives me something to do everyday and something to think about that isn't part of my mom responsibilities. I love having something that reminds me that I am more than just a mom and that there was a time when I had interests of my own. I like that I can tap back into a small version of what I used to do.
It makes me feel great to talk to other moms and learn from them, and know that there are so many other women trying to do the same things that I want to do.
So, what is the purpose of this post? Other than to share my small victories, I wanted to encourage you to follow your dreams. All moms have something that they want to do but they feel like it will have to wait, or that they just won't be able to do.
I say rubbish!
Go and do what you love to do, right now!!!!
You can do anything you want to. I say this because it is something that I know that we all want to teach our kids. So you know what, go out there and lead by example! Show those kids that you are able to do everything that you want to do in life.
Moms are wonderful and amazing! They are capable of so much more than what they think that they can do. I want to encourage you to go out there and do it! Fulfill that desire. Make it happen. Become the best version of you possible! Take care of yourself and your family will thank you for it.
Follow me on Instagram for more encouragement and fun,
To get you started download my Free Mom Goal Sheets.
And don't forget to sign up for my email list to get the latest and be the first to know!
[mc4wp_form id="337″]