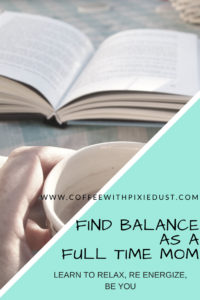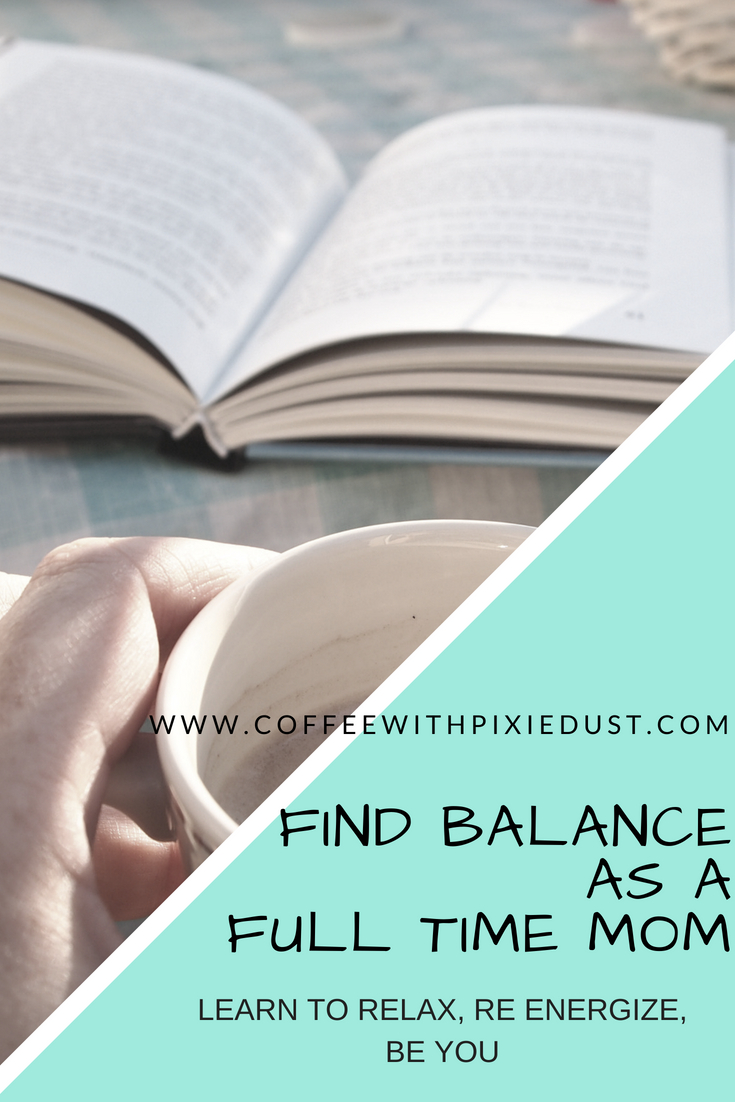 Find balance as a full time mom -learn to relax, re energize, be you
Full time mom…. What does that mean?
It means your a mom, with a busy life, and a million and one things that you have to get done every single day. It is defined differently by every single one of us. Some of us stay home, some work, some blog, some homeschool, some have infants, some worry about their teenagers, some work carpools and PTA's, others go to every function our children have. Some cook and clean daily, others do the best they can. What it means is that they day you become a mom, resting is the last thing on our list. It means we are busy and continuously on call for, well… the rest of our lives. Learning to find balance can be really hard, especially as a busy mom.
What does it Really Mean?
My definition of a full time mom comes from my own mom who says, that just because my brother and I are full grown, with our own families she still does not stop worrying about us. The day you have your kid, life changes in the most amazing way. There are so many good things, and bad things, that can happen. But what is for certain is that we don't stop again! At least not for a very long time. So how do we find balance, how do we continue to be ourselves when we are so busy with so many things going on.
So what is a girl to do?
You still have to have some balance in your life and you still have to make time for fun and friends and that whole self care thing that you keep talking about.
How, you ask?
For starters we all need a little more organization in our lives, but that is for another post. I want to challenge you to find a hobby and a friend, someone you can talk to about things.
A Hobby You Say?
How do you even start this one? Well make a list of all of the things you enjoy. Reading, Knitting, Blogging, Art Journaling, Gardening, Dog training, teaching… the list can be endless. Write down all of your interests and then explore one or two.
I personally love knitting, reading, and blogging. I can knit for hours and the health benefits are ridiculous. Reading is pretty awesome, but that one is harder with small kids. Knitting can be versatile and easy to do while I teach or watch cartoons, but reading a book all the way through is harder for me to do. Recently, I took up blogging. It has been such a great way for me to focus and express myself. I love writing and sharing and I have met some great mom friends too.
Now Find What You Like To Do
You may hate my top 3, so try what makes you happy. It really doesn't matter, it just needs to be something that you are able to do daily to help you relax and focus. To help you clear your mind even if it is only for 30 minutes a day. Try Art Journaling. This is my newest thing and I love it. Though I confess I'm starting to knit again, maybe because winter is coming.
And About That Friend?
Doing the mom thing alone is really hard. Find someone you can be yourself with and sit on the couch watching terrible T.V. Like 90 day Fiance, for example. See I have a couple f really great friends, but I have one who will always be there! My sister in law. The crazy girl who thought it would be a great idea to marry my brother! Well, she was right and the best part is that we are friends that get along!!!!
Opposites Always Attract
Her life is the complete opposite of mine. We do nothing the same, except buy the same shoes in different colors. We have been friends since they started dating 15 years ago. I love her. She yells at me when I don't do the right thing, and I yell at her for not being more strict with my nephews. She works full time and I'm a SAHM. I love Disney and she only goes when I make her. I could go on and on.
What we do, to Relax
We talk and sit and do nothing. This week my brother is out of town, so they asked me to come over and help watch the kiddos while she works. Luckily I have a flexible schedule so I was able to come help out. (To all you moms with 4 kids, I salute you!)
I am having a great time with 4 kids, 4 dogs, and everything else that we do. But the best part is that I know that soon they will all go to sleep and she and I can just be. One night we sat up and talked till 1 in the morning, another we ate ice cream bars and watched horrible TV and laughed lots! We balance the whole mom thing together. I get its hard for her to leave her kids and she understands when mine drive me crazy. She supports my homeschooling and I prepare her to send her kids to school.
This is what we do. And this is how I re energize and find balance. I realize that all moms have the same fears and struggles even when we do things completely different. We both daydream about our boys getting older and we get sad together. But the best part is that we will be able to do this mom thing together.
Finding friends is so hard. I got lucky cause my brother married a great person! But I have been there all alone and unsure of what to do.God has blessed me with some great people in my life and I am so thankful for that.
Also read this article to help you remember that you are a priority, Alone Time, How to make yourself a Priority
and then check out, Art Journal – Figure Out What Makes You Happy
Please comment below and let me know how you are doing on the steps. What are your accomplishments that you are you working on? Are you looking forward to something new this week?
Follow me on Instagram for all of the latest.
Sign up to be the first to know all of the newest info including my new workbook as well as what is going on with my new IGTV channel
[mc4wp_form id="337″]